SECTION "A" (MULTIPLE CHOICE QUESTIONS)
1. Choose the correct answer for each from the given options:
(i) This is classified in a balance sheet as a current liability:
* Debenture
* Prepaid expense
* Preference shares
* Dividend payable
(ii) Profit, appropriated for some specific purpose, is called:
* Reserve
* Revenue
* Discount
* Asset
(iii) In nonprofit concerns, the term accumulated fund is used in place of:
* Drawing
* income
* Capital
* Retained Earning
(iv) Income and expenditure account, in non profit concerns, is similar to:
* Exp. & Rev. Summary
* Balance Sheet
* Statement of retained earning
* Cash book
(v) The amount of share capital, with which a company is registered, is called:
* Issued capital
* Paid up capital
* Authorized capital
* None of these
(vi) In trial balance, the balance of the Accumulated Depreciation account is:
* Shown as a credit item
* Shown as a debit item
* Sometimes shown as a credit, sometimes as a debit
* not shown, as it is deducted from related non-current asset
(vii) Capital expenditures are recorded as:
* Capital
* expense
* asset
* revenue
(viii) A and B are partners with equity ratio 1 : 2. After admission of C for % interest in the total capital, the equity ratio of A, Band C will be:
* 1 : 2 : 2
*  2: 3 : 3
* 1: 2 : 3
* 1: 2 : 1
(ix) Incase of admisaion under bonus method, total capital of the firm increases by the amount:
* equal to new Investment
* more than new Investment
* less than new Investment
* equal to old Investment
(x) The account "retained earning" represents:
* Reserve
* Un-appropriated profit
* Net profit for the current period
* Liabilities
(xi) The following account will be debited for recording declaration of dividend by a company:
* Dividend payable
* Share capital
* Retained earnings
* Preliminary expense
(xii) Initial expenses like legal fees, cost of printing and remuneration to promoters are recorded under:
* Legal expense
* Statutory expense
* Contingencies expense
* Preliminary expense
(xiii) The following is the summary of cash records prepared in non-profit earning concerns:
* Receipt & payment A/c
* Cash book
* Exp. & Rev. summary
* Bank statement
(xiv) The credit balance of income and expenditure account represents:
* Cash in hand
* Bank overdraft
* Surplus of income over expenditure
* Surplus of expenditure over income
(xv) The alternative term used for authorized capital is:
* Subscribed Capital
* Paid up capital
* Issued capital
* Nominal capital
(xvi) As a result of declaration of stock dividend, shareholder's equity:
* Increase
* Decrease
* Remain unchanged
* Fluctuate
(xvii) This is not a part of profit/loss sharing scheme:
* Interest on partner's capital
* Salary to partner
* Commission to salesmen
* Commission to partner
(xviii) Rent, paid to a partner for his building in which business is being operated, will be debited to:
* Rent expense A/c.
* Drawing Alc.
* Current A/c.
* Capital Alc.
(xix) Under fixed capital method, profit I loss is transferred to
* Capital A/c.
* Current A/c.
* Income summary A/c.
* Bank A/c.
(xx) This is not shareholders equity:
* Debentures
* Ordinary shares
* Preferences shares
* Share premium
SECTION 'B' (SHORT – ANSWER QUESTIONS)
NOTE: Attempt any Five questions.
2. SINGLE ENTRY:
Mr. X invested cash Rs.1,50,000 on August 5, 2013. On Dec. 31, 2013 the position of his assets and liabilities is as under Cash Rs.1,80,000 Office supplies Rs.30,000 Merchandise Rs.50,000 and Furniture Rs.85,000 Payable to suppliers Rs.1,20,000 & Receivable from customers Rs.70,000.
DATA FOR ADJUSTMENT:
(i) Additional investment Rs.5,000 per month for 4 months.
(ii) Mr. X withdrew some merchandise which cost Rs.15,000 for his home use.
(iii) Depreciation on Furniture Rs.15,000.
REQUIRED:
Prepare statement of Affairs as on December 31, 2013. (Net Income for the period was Rs.1,25,000)
SOLUTION:
MR. X,
BALANCE SHEET,
As on Dec. 31, 2013.
ASSETS
CURRENT ASSETS:
Cash                                                                                  1,80,000
Office Supplies                                                                     30,000
Accounts Receivable                                                            70,500
Merchandise Inventory                                                          50,000
Total current Assets                                                           3,30,000
FIXED ASSETS:
Office Furniture                                 85,000
Less: Allowance for depreciation      15,000                        70,000   
TOTAL ASSETS                                                               4,00,000  
EQUITIES
CURRENT LIABILITIES:
Accounts Payable                                                             1,20,000
OWNER,S EQUITY:
Capital at start                       1,50,000
Add: Net Income                    1,25,000
Additional Investment               20,000
Less: Drawing                        (15,000)                              2,80,000
TOTAL EQUITIES                                                             4,00,000
3. PARTNERSHIP – FORMATION:
On March 1, 2014 following balances relate to the business of Mr. Ashar and Mr. Nasr sole traders.
On this date they decided to merge their businesses and form a partnership under the name and style of Ashar and Nasr partnership and decided as under:
(i) Mr. Ashar contributed 1/5 of his cash, Account receivable at realizable value of Rs.68,000, office supplies at Rs.30,000, Building at agreed value of Rs.1,60,000 and furniture at its book value. Mr. Ashar' paid % of his liability from private fund.
(ii) Mr. Nasr sold all of his business assets except Furniture and paid all of his liabilities. He invested Furniture in the partnership at its book value and sufficient cash to give him equal interest with Mr. Ashar.
REQUIRED:
Prepare entries in the General Journal of A & N partnership to record the contribution of Ashar & Nasr
SOLUTION:

4. DISTRIBUTION OF PROFIT / LOSS:
Mr. A and Mr. B formed a partnership on September 1, 2013 with capitals of Rs.80,000 and Rs.90,000 respectively. They agreed to share profit and loss in the ration of 1 : 2.' The partnership agreement states that salary is to be paid to Mr. A Rs.3,000 per month and to Mr. B Rs.2,500 per month. Interest is paid on their capitals @ 6% per annum. Bonus is given to Mr. B Rs.5,600. Total profit of the firm for the period ended December 31, 2013 was 1,000. Mr. A and Mr. B withdrew cash for their personal use Rs.1,000 and 2,000 respectively. Fixed capital" method is followed.
REQUIRED:
(i) Prepare Income distribution summary.
(ii) Setup T accounts for partner's current accounts make posting there in and balance the accounts.
SOLUTION:
5. PARTNERSHIP – ADMISSION:
Waheed and Majeed are partners sharing profit and loss in the ratio of their capitals. Their firm's balance sheet on January 1,2014 is as under.

On this date, they admit Azmat as a new partner and give him % interest in the capital and profit.
REQUIRED:
Prepare balance sheet of the firm after- his admission, If Mr. Azmat invests cash Rs.50,000 and the capital of the firm is Rs.1;52,000 after his admission. (Journal entries are not required)
SOLUTION:
6. PARTNERSHIP – RETIREMENT:
Aslam Mobin and Jawaid are partners having capital balances Rs.4,00,000, Rs.3,60,000 and Rs.4,80,000 respectively They share profit and loss in the ratio of 5 : 3 : 4 respectively. Jawaid retired and was paid Rs.4,20,000, after revaluation of assets.
REQUIRED:
Record entries in general journal for the distribution of gain / loss on revaluation and retirement of Jawaid.
SOLUTION:

Computation of Re-valuation
Jawaid Capital                                                     480,000
Less: Jawaid is to be paid                                   420,000  
Loss to Jawaid                                                       60,000 
Total loss on revaluation (60,000 + 4/12)            180,000
——————————–
7. ISSUANCE OF SHARES & DEBENTURE:
AS Co. Ltd. Registered with a capital of Rs.10,00,000 which is divided into 1,00,000 ordinary shares of Rs.10 each During the year 2013, following transactions were completed:
(i) Company offered 8,000 shares at par. Company's banker informed that total amount received Rs.87,000. Company finalized the allotment and refunded the excess amount.
(ii) Issued 1200 ordinary shares'to the promoters for the services rendered by them.
(iii) Issued 4000 5% debentures of Rs.100 at Rs.98 redeemable after 5 years at Rs.104.
(iv) Purchased Building for Rs.1,50,000 and issued ordinary shares which have market value Rs.12.50 per share.
(v) Issued 9000 ordinary shares in full settlement of Bonds payable of Rs.85,000.
REQUIRED:
Record Journal Entries. (Show computation)
SOLUTION:
 8. APPROPRIATION OF RETAINED EARNING:
The following balances appear in the books of AB Company Ltd. On December 31, 2013.
Authorized Capital
60,000 Ordinary shares @ Rs.10                              6,00,000
Issued & paid up Capital
55,000 Ordinary shares @ Rs.10                              5,50,000
Retained Earning                                                       3,50,000
On December 31, 2013 the Income Summary of the company showed a credit balance of Rs.7,50,000. At this. date, the company decided as under:
(i) To declare cash dividend Rs.8 per ordinary share and stock dividend 30%.
(ii) To appropriate Rs.20,000 for Contingencies.
(iii) To appropriate Rs.50,000 for Plant extension.
REQUIRED:
(a) Give entries in· the General Journal of the company to close Income Summary account and give effect to the above decisions.
(b) Compute shareholders equity after giving effect to the above decisions.
SOLUTION:
SECTION C (DETAILED -ANSWER QUESTION)
NOTE: Attempt any two part question.
9.(a) ACCOUNTING FOR DEPRECIATION WORKING HOURS / UNIT METHOD:
Following information relates to the books of Zee Company Ltd.
Machine A worked 800 hours in 2010 and 2000 hours in 2011, whereas Machine B produced 4,000; 16,000 and 20,000 units in 2011, 2012 and 2013 respectively.
REQUIRED:
(i) Calculate the amount of depreciation per hour and per unit.
(ii) Prepare adjusting entries on December 31, 2010 and 2011 for Machine A.
(iii) Prepare, allowance for depreciation account for the first three years for Machine B.
SOLUTION:
COMPUTATION OF DEPRECIATION,
BY HOURS METHOD (Machine A)
Per Hour depreciation = Cost – Salvage value
Life (in hours)
Per Hour depreciation =  98,000 – 8,000
12000
Per Hour depreciation =       90,000
12000
Per Hour depreciation = Rs.7.5 Per hour
Depreciation 31.12.2010 (800 x 7.5)                 6,000
Depreciation 31.12.2011 (2000 x 7.5)             15,000
—————————–
(b) ACCOUNTING FOR DEPRECIATION DIMINISHING BALANCE METHOD:
After adjustments the balance sheet of Babar Iqbal as on December 31, 2012 shows Equipment Rs.6,00,000 and Accumulated depreciation Equipment Rs.1,14,000.
REQUIRED:
(i) Calculate depreciation for the year 2012 and 2013 under diminishing balance method @ 10%.
(ii) Prepare partial balance sheet as on December 31,2013.
(iii) Set up Accumulated Depreciation Account.
SOLUTION: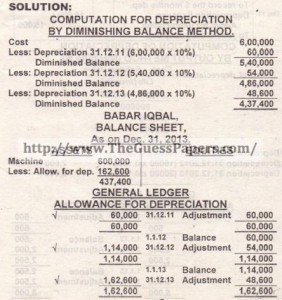 (c) ACCOUNTING FOR NON PROFIT CONCERN:
The following is the Receipts and Payments account of AB Sports Club, Karachi for the year ended June 30, 2013.
ADDITIONAL DATA:
(i) Accrued Subscriptions Rs.15,000.
(ii) Prepaid utilities Rs.8,000.
(iii) Depreciation charges @ 10% per annum on all fixed asset accounts.
NOTE: On July 1, 2012 AB Sports Club has the following account balances.
Furniture Rs.1,80,000; Sports equipment Rs.30,000; Loan Rs.1,30,000; Subscription in arrear Rs.50,000.
REQUIRED:
(i) Compute the amount of accumulated fund on July1,2012
(ii) Prepare Income and Expenditure account.
SOLUTION:
ACCUMULATED FUND ON JULY 1. 2012.
Furniture                                                                   1,80,000
Sports Equipment                                                        30,000
Subscription in arrear                                                   50,000
Totat Assets                                                               2,60,000
Less: Loan                                                                  1,30,000
Accumulated fund on July 1, 2012.                             1,30,000